REFUEL – 24 Day weight loss eating plan to shed fat and pump up strength and stamina

A very Happy New Year to you – every year a new promise, and this year we will put it into an action.  For men we have an answer – and that is found in the new book by Dr. John La Puma: Refuel.
Did you ever get out of bed just because you like the taste of coffee? That was me this morning – thought about going back to bed for a few minutes then the thought of that perfect cup of Peet's coffee called me, and here I am. It is quiet at this hour, my wife, son, and dog all sleeping- so I have a few minutes to write to you.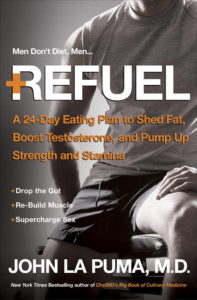 I received an advance copy of Refuel, so have had a couple of weeks to read and critically examine the book. My conclusion – it is the simple, empowering plan that many men need. For you men: read my review- get the book- it is so worth it. For women – if you have a man in your life that you are concerned about – this is the book to empower them and get them back in the kitchen – where they belong. I wrote more about this in my blog post this week and you can find that here.
Happy New Year – there is a little boy who is calling for his dad, and my resolution is to enjoy as much of this energetic three year old as I can (and pay a lot of attention to his mom also).
—Terry