Support is a key factor in weight loss success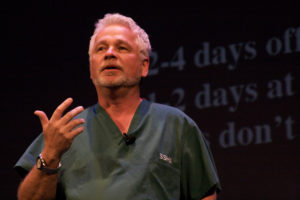 Almost every Lap-band patient starts their journey without even thinking of support as a factor when they choose a surgical provider. Reality is, post operative aftercare is absolutely the most important element in success with Lap-band surgery. Certain success can only be achieved with a professionally strategized aftercare program. Many surgical providers fail to deliver proper support because it is a very difficult and time consuming thing to do.
Lap-band surgery without continued support is only 50/50
Dr. Simpson gives you good old fashioned care and support using modern and advanced surgical equipment and facilities. With Dr. Simpson, Lap-band surgery is not a sale but a commitment to his patients long term health and success. He knows Lap-band surgery is only a 30 minute procedure and the most important thing the patient needs is a lifestyle change that can only be delivered through a lifetime of support. For a really good surgeon like Dr. Simpson, it is much easier to do the surgery than deliver a lifetime of aftercare. This is true for most surgical providers. It is easy for them to do the surgery but difficult to develop and deliver an aftercare program. The difference between an honest and concerned Lap-band professional and a fly-by-night surgical provider is in the level of aftercare delivered after the surgery. Simply put; if you receive Lap-band surgery without a strategized professional support system, the surgical provider has robbed you of the most important element for your success.
30 minutes of surgery is easy – lifetime support is hard to do
Have you ever bought something and found after the sale the people that sold it to you had no intention of giving you the service that should come with the product? Sometimes it doesn't matter. But sometimes it is important and is in fact the most critical thing you need. This is the way it is with many Lap-band surgery providers. They know the patient absolutely needs support after Lap-band surgery. But, they just can't organize themselves enough to develop or deliver a real program. They will only talk the talk about the importance of aftercare and the existence of their programs when trying to sell a patient on surgery. After surgery, many patients find themselves abandoned or involved in poorly planned meetings without inspiration. They have given you a thirty minute surgery and fail to support you for the rest of your life. Further, Dr. Simpson does all follow-up visits with his surgical patients, unlike many other surgeons who hire a nurse or technician to do follow-ups. Who do you want to do your checkup after surgery, the surgeon or a surrogate?
Successful Lap-band surgery requires lifestyle changes
Let's say you have an automobile accident and then have your car repaired. Afterwards if you persist in doing the same bad things that got you into the first accident, you will have another accident and experience the damages all over again. If you persist in doing the same bad eating behaviors, you can only experience the same negative results as consequences. The Lap-band eliminates hunger. In addition to hunger, psychological factors cause a person to overeat. A person cannot understand the effect of psychological factors within themselves. Frequently they are based upon traumas that occurred early in life and overeating is a reactive comfort mechanism that becomes ingrained independent of the original trauma. The patient just eats, not because of hunger, but only to feel good and they can't even begin to understand why let alone control it. It is unavoidable that most patients must have a professional aftercare system to re-train their reactions to food. Dr. Simpson's programs impart the lifestyle changes you need to master living with the lap-band and permanently eliminate the consequences of being overweight.
Dr. Simpson wrote THE weight loss surgery support book
Dr. Simpson's many books are used as workbooks by successful support groups everywhere. Dr. Simpson is an experienced Lap-band surgeon in Arizona. This great doctor has taken his experiences, the experiences of his dedicated co-workers and most of all his successful patients and created the bible for weight loss surgery post-operative aftercare. Rather than just give surgery without adequate lifelong aftercare to his patients as many surgeons do, he devoted years of his time to become educated about surgery and the aftercare necessary for success at a higher level. He then took it upon himself to publish it all in books for success using Lap-band surgery. There is no better aftercare available and it comes with your surgery for the rest of your life. Our patients and staff create a wonderfully caring group to belong to. So our aftercare also includes an occasional party such as our Christmas parties, which by any standard are an awful lot of fun.
Dr. Terry Simpson's Weight Loss Surgery Books
Our support group is the largest and has existed longer than any other…
…in Arizona, because we do all the right things. People love to attend our support meetings because Dr. Simpson's entertaining presentations make it more of a pleasure than a chore. Again we must emphasize the importance of aftercare for most patients. Some people are genetically predisposed to be overweight. They hardly eat any food at all and yet they gain weight. Those who are overweight due to their genetics may hardly need any support, just enough to teach them how to use the band. But, the vast majority of patients over their lifetime have used food as comfort in response to deeper issues within their lives. If those issues are not resolved, they may 'overeat' the Lap-band and gain weight despite it. In our lifetime aftercare you stay in contact with Dr. Simpson, his support staff, and most importantly a lot of patients just like yourself. Our support group abounds with long standing friendships between people that are helping each other defeat compulsive eating. We will help you keep on track and teach you how to identify issues other than hunger that may cause you to eat. You can learn to identify those triggers and learn how to visualize them in such a way that you do not react by eating. This kind of aftercare ensures the Lap-band will give you the weight loss you want and you will keep it off for the rest of your life.
How do you know a Lap-band surgeon has adequate support?
EASY! go to a support meeting before having surgery and find out. You have a permanent invitation to attend our support meetings. Go to one of our aftercare meetings and then go to any other surgical provider's support meetings. See if their course material comes anything close to Dr. Simpson's books. You be the judge. Oh yes, don't be surprised when you see Dr. Simpson leading your support meeting himself. He is just that concerned about your success that he personally makes certain you receive the aftercare you need. The only way to know is to experience it. We want you to experience the success that will come because of our support, and remember it's all included in the price of your surgery.
View Our ONLINE Lap-band Surgery Seminar or Attend a FREE Live Lap-band Seminar In-person