It's not easy to be a doctor, let alone a good doctor that cares. Why? Have you ever considered the responsibility of caring for a person's health?  The costs of facilities, specialized equipment and staff to say the least are staggering. How can you make certain you are applying state of the art medical care?  How can you know each and every one of your staff members do their absolute best to support your high standards?  Every once and awhile a good doctor that succeeds gets a little recognition they deserve.
Who decides who is a top Lap-band doctor in Phoenix Arizona?
The doctors are selected by other doctors in a peer-review survey. Phoenix (Arizona) Magazine believes that medical professionals have the knowledge to judge medical professionals. To select the doctors, PHOENIX Magazine actually surveys Valley physicians (5000 of them), including medical doctors and osteopathic doctors. The Phoenix Arizona magazine survey asks the doctors to nominate doctors who, in their judgment, are the best in their field.
Dr. Terry Simpson's service to his patients is what makes him the best
Local doctors know the sacrifices made by Terry Simpson in order to best serve his patients. If Terry is golfing, he may be interrupted by an email from one of his patients. The difference between Terry and most other doctors is that if the email is from a patient with a serious problem, he will stop playing and respond right there on the golf course. A few lap-band doctors have followed Terry's initiative and made themselves a little more available to their patients simply because there is no competing with this kind of accessibility and service.  With Terry, it's not competition.  It's about real care. He gives his patients continuous access because he lives the golden rule in the way he practices medicine. This service has created a tremendous reputation that has helped to make Terry a Phoenix Arizona magazine "Best Doctor."
Information has also made Terry Simpson one of the "Best Doctors"
Terry has written several books about how to succeed using Lap-band surgery. He didn't write the books so they would become the definitive guides to learning about and using the Laparoscopic band (which they have become).  He wrote them so his patients have ALL the knowledge he can possibly supply relative to their Lap-band surgery procedure and, most importantly, all his knowledge in using the band in their aftercare. How many times have you left a doctor's office feeling nearly as uninformed as when you went in? That can't happen with Terry Simpson, because if you get Lap-band surgery from him you also are given a book covering everything you need to know about using the Lap-band. Terry wrote this book because there was nothing available to guide Lap-band surgery patients.  Because surgery is only the beginning with any health issue, you must always make lifestyle changes to eliminate the cause. Terry saw a void in the knowledge available to Lap-band patients and took it upon himself to fill it with what has ultimately become the bible for living with Lap-band surgery. This level of sacrifice helped put Terry on the list of "Best Doctors" in Phoenix Arizona."
Learn about Dr. Simpson's Books 
Dr. Terry Simpson's "Top Doctor" interview with Phoenix Arizona Magazine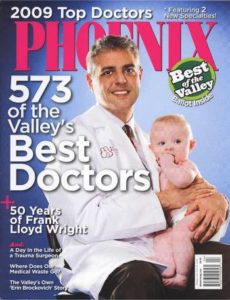 How did you end up in Arizona?
I'm a quarter Native American, and after I did my residency, I owed the government a couple of years. I thought, 'Oh, I'll come down here for three years and work for the Indian health services and then go back to Seattle.' That was in 1991.
How does weight loss surgery differ from other types of medicine?
In surgery, you typically get a patient when they're very sick. You hurt them and then they get better. You'll see them post-op once or twice. You may have thousands of patients in a career but not remember any of them. In weight-loss surgery, you do this operation, you make the change, and you get to see them through that change. And every year they get better and better. It's dealing more with a reversal of chronic disease.
How has your field evolved since you began in 1991?
We have expanded the uses. Instead of only having big open surgery on very big people who are super-morbidly obese, we have brought [surgeries] to people who are just obese. They might have 50 pounds of weight to lose. These are people who clearly struggle, and now we have a tool for them that we didn't have years ago. Now we're looking at weight-loss surgery as probably the best prevention you can do for adults.
In what way is your profession rewarding?
I've had a mother say, 'I got to go to Universal Studios and go on the rides with my kids. I couldn't do that last year.' Or when they say, 'I know this sounds vain, but I don't have to go to the big ladies' shop anymore.'
What type of patients are you treating more often these days?
We're seeing more and more kids. There was a study done recently that showed children who have obesity have the quality-of-life equivalent to teenagers who have terminal cancer. How they look at themselves makes the teenage years tough, even if you're the quarterback. So it is fun taking those [obese] kids and doing that.
What are you doing when you're not seeing patients?
I've written three books about weight-loss surgery, and I'm currently writing a novel. I have a book in press now called Cigar Talk.
Sepessy, Celeste. Top Doctors, Dr, Terry Simpson – Phoenix (Arizona) Magazine. 04/06. Page 171